Leaflet Plugin for Omeka
We are pleased to announced that our new Leaflet Plugin for Omeka is now ready and available for download.
The plugin allows you to easily add stylish, custom Leaflet maps to your Items, Pages, Exhibits, and Collections in Omeka.
The plugin is free to download and use in any Omeka installation hosted anywhere.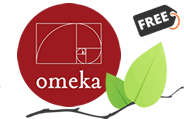 Download Omeka Leaflet Plugin Now
Once you have downloaded the plugin, please see our video tutorials here:
https://www.acugis.com/docs/omeka-leaflet-plugin/
We would like to learn of any theme conflicts, issues, or suggestions you may have regarding the plugin.  Please email us at plugins (at) acugis (dot) com and with the subject line "OLPF Feedback".  For technical issues, please be sure to include your Omeka version, theme, and all other installed plugins.
Commercial support for advanced GIS features with PostGIS and Oracle are available via our Omeka Leaflet Studio subscriptions. 
Omeka Leaflet Studio

can also be obtained at no cost by academic institutions.
A GPL release will be available in the coming weeks and posted to GitHub.  We hope to make the plugin available via the Omeka Plugin directory as well.